Below is a list of Class A Precision equipment available to service you. Feel free to contact us with any questions regarding our services and capabilities of these machines.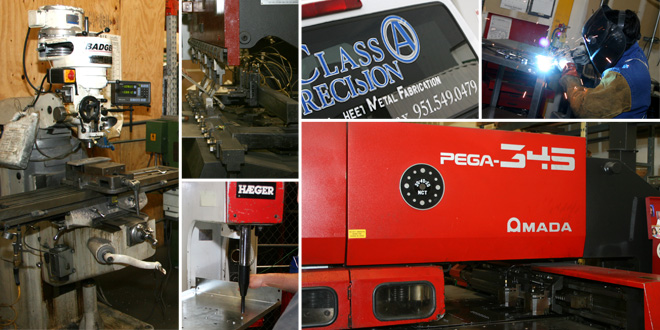 ---
Amada 10' Sheer, Cutting up to 1/4" thick material
Amada Vipros 357 Hydraulic 58-station turret press
Laser Mitsubishi 4000 watt Fiber 5'x 10' with Automation
Amada Notcher cs-220
4' power roller
cnc press brake amada rg 125
cnc press brake amada rg 100
cnc press brake amada rg 35
heager pem inserter
36" line granier
---
Experienced and certified, our welding department is topnotch with a welding table made to perfection. It features a flat ten foot surface that allows for precise measurement for our welders that have over 10 years of experience.
janda spot welder 80 kva
2 miller 250 tig welders
3 lincoln 275 mig welder
---
14" cutoff saws
horizontal band saw
---
Tapping, threading, and counter sinks, whatever the need our milling department can do.